Flight Attendant
A Flight Attendant is a critical part of the Regional Express team. The Flight Attendants are our Ambassadors.
The role involves responsibility for passenger safety and welfare as well as delivering excellent service to our passengers.
There is one Flight Attendant on each SAAB 340 aircraft. Our single Flight Attendants are solely responsible for equipment and security checks, in-flight announcements, in-flight service, turnaround cleaning duties and dealing with in-flight cabin emergencies such as medical situations.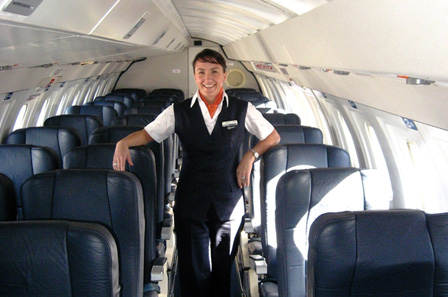 The personalised service and opportunity to manage your own cabin is rewarding, but the role can be challenging and exhausting.
Whilst it is often considered a lifestyle choice to be a Flight Attendant you must be willing to work shift work, work on weekends and public holidays and depending on the base location there could be nights spent away from home.
Our Flight Attendants are based in Sydney, Melbourne, Adelaide, Perth, Albury, Wagga Wagga, Orange, Cairns and Townsville.
We are looking for people who:
– will provide each individual passenger with a friendly and efficient service,
– possess good organisational and time management skills,
– have strong interpersonal and communications skills,
– can think quickly on their feet when placed in challenging situations,
– are flexible, and
– have excellent grooming and personal presentation. 

Essential Selection Criteria
– Minimum 18 years of age
– Maximum height of 173 cm
– Current Senior First Aid Certificate
– Current Responsible Service of Alcohol Certificate
– School Certificate or equivalent
– Australian Citizenship or Permanent Residency
– A competent level of English both written and spoken
– Minimum of 3 years full-time Customer Service experience
– A high standard of physical fitness (incl must be able to swim 50m fully clothed)
How To Apply
Please >> CLICK HERE << to apply for this position.
Regional Express accepts applications throughout the year however this does not mean a position is immediately available. Please refer to FAQ for more information.
FAQ
Please click here for the Flight Attendant FAQ.
Applicants must be able to work in Australia
Regional Express is an equal opportunity employer
The Rex Group is compliant with the Workplace Gender Equality Act 2012